Charity Cards At Christmas With Love Kate's
posted by
Love Kate's
on
December, 07, 2018
in
Love Kates
tagged with
News
Occasions
Christmas is a magical time of year for many people, although it certainly isnít easy for everyone. Christmas can also remind people of what theyíre missing, such as lost loved ones, good health or just companionship. The act of card-sending at Christmastime is a long-standing tradition that brings joy to friends and families all over the world each year. Itís estimated that around 900 million cards will be sent in the UK alone this year. At Love Kateís we realise that even if a small percentage of those cards were charity cards, this would really help some of the organisations that rely solely on generosity. We believe that Christmastime is all about spreading kindness, showing appreciation and embracing charitability. With this in mind, Kate is so pleased to offer a festive and fabulous variety of charity cards.
We offer a large range of charity Christmas cards, with at least 10% of each purchase heading directly to the charity. Kate says ďCharity cards are extremely popular at Christmas, customers get behind supporting a good cause when thinking about choosing their cardsĒ which is why Kate ensures year-on-year that there is more choice, more charities and more discounts when it comes to charity cards. Here at Love Kateís, we offer a wide assortment of charity cards, including charities such as ChildLine, Samaritans, Marie Curie, Multiple Sclerosis, Shelter & Crisis, Alzheimerís Society, Princeís Trust, RSPCA, British Heart Foundation and more.
Itís seldom found that people havenít heard of these organisations, however we worry that many people donít truly understand the intentions and differences of each one. If you want to make a difference this year, we want to make it easier by helping you decide which charity cards to purchase by explaining just some of the charities we support at Love Kateís.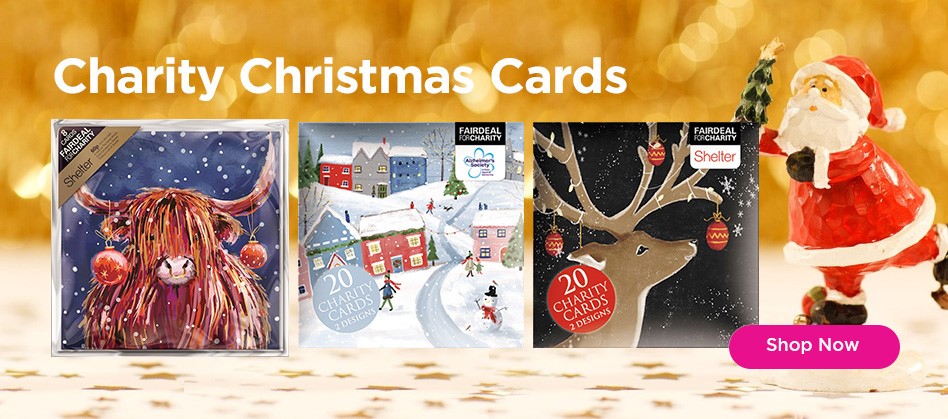 ChildLine
ChildLine is a counselling service for young people, aged 19 and under, in the UK provided by the NSPCC. ChildLine deals with any issue which causes distress or concern, common issues dealt with include child abuse, bullying, mental illness, parental separation or divorce, pregnancy, substance misuse, neglect and psychological abuse. ChildLine is free, confidential and available any time, day or night. Children are able to access the service by calling, emailing or using 1-2-1 counsellor chat online. This is a truly amazing charity that many children will unfortunately find themselves using over the festive period each year.
Samaritans
Samaritans are a charity aiming to provide support to anyone in emotional stress, struggling to cope or at risk of suicide. Samaritans offer a safe place for you to talk at any time you like about whateverís getting to you. Individuals are able to access help through calling, emailing, visiting, writing a letter or even texting. Samaritans is a lifeline for many people and a great cause to help at Christmastime this year.
Marie Curie
Marie Curie is a registered charitable organisation in the UK which provides care and support to individuals living with terminal illnesses. The charity helps terminally ill patients both in the community and in its nine hospices, as well as supporting their families. Marie Curie is made up of more than 2,700 nurses, doctors and other healthcare professionals. By donating to Marie Curie, you are funding care and support for people living with a terminal illness, and their families, across the UK. Surely thatís a good enough reason to choose a pack of charity cards this year?
Princeís Trust
The Princeís Trust is a charity in the UK founded in 1976 by Charles, Prince of Wales to help vulnerable young people get their lives on track. It supports those between the age of 11 to 30 who are unemployed and those struggling at school and at risk of exclusion. The trust aims to help a further one million young people to transform their lives over the next 10 years. They intend to do this by helping people to develop the confidence and skills to live, to learn and to earn, giving them an increasing stake in our economy and society.
We hope that you feel more informed about the benefits of Christmas charity cards and the importance of helping those in need. Letís all spread love and cheer this ChristmasÖ
Love Kateís x
There are no comments for this post, be the first to leave a comment below.