The Difficulties Of Gift Buying, Gifts for Grandad, Aunties & Uncles
posted by
Love Kate's
on
December, 02, 2018
in
Love Kates
tagged with
Calendar
Occasions
With Christmas just around the corner, it seems that people are beginning to get organised in the gift department. This has Kate pondering over who's the hardest loved one to buy for at Christmas time? Many people have a huge list of people they feel the need to buy for, but it isn't always easy finding a suitable present. It all depends on the person you're buying for and the relationship you have with that person. Someone might be blown away by a novelty whoopee cushion, whilst others would find this very distasteful. So, here at Love Kate's, we thought we would have a proper think about the difficulties of choosing gifts.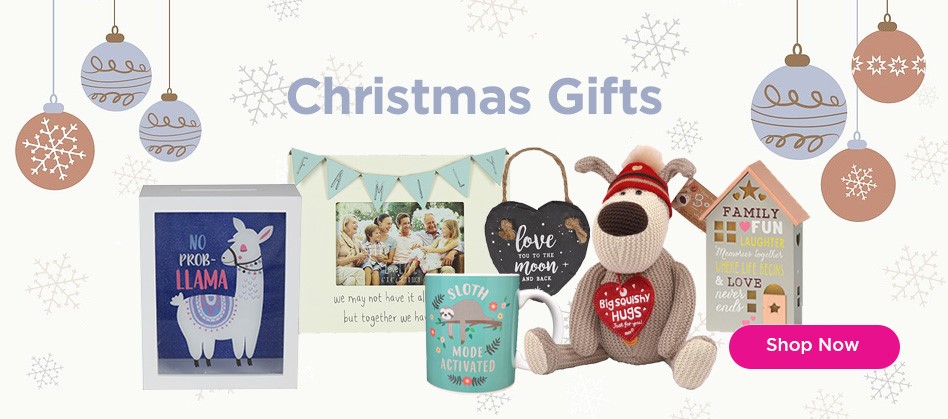 When you're struggling to buy for your loved ones, you should think about who you want to impress, who is easy to spoil and who is tricky? We believe that Grandad, Uncle and Auntie can be difficult relatives to buy for. Although, it depends entirely on your personal situation of course. Understanding the pressures that come with modern Christmas time, we want to help you find everyone a gift. Kate begins assisting her customers months in advance of Christmas, by choosing a huge selection of cards and gifts to sell. Kate says,
"I think it's really important that we offer a varied selection of gifts, as this helps our wonderful customers to choose unique gifts tailored to their loved ones".
There are so many different types of gifts on offer at Love Kate's, including photo frames, candles, money pots, plaques, light up gifts and much more. For Grandad Gift Ideas why not look at a Boofle Grandad Mug & Socks Gift Set or a lovely 'me & my grandad' photo frame from Impressions by Juliana. For your Auntie Gifts there are fabulous light up boxes and jars, hanging plaques, socks and many more lovely gifts for that difficult present. There are a great array of similar Uncle Gifts too. Having your loved ones relation to you on a gift makes it less generic and will stand out from the pile of socks they will have already opened.
"It's useful to think of modern and quirky trends for inspiration, gin is the new prosecco when it comes to gift buying!"
Kate says, before explaining that "Llama and sloths are replacing mermaids and unicorns." Here at Love Kate's we always strive to offer on-trend gifts at affordable prices, we hope this takes some of the stress out of Christmas. However, don't let the pressures of getting Christmas perfect overwhelm you at this wonderful time of year.
Love Kate's x
There are no comments for this post, be the first to leave a comment below.